Mk2 Coupe
This page was last updated on: .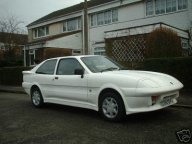 On 7th Feb 2004 I bought Quantum number 4, this is a Quantum Mk2 Coupe (Saloon), I saw the car on Ebay and bid £1066 but didn't meet the reserve though I was the highest bidder and I contacted the seller after the auction finished and we agreed on a price of £950 so that was a result.
Luckily the seller was local (this was the main reason i bought it), he'd only had the car a few months, he'd bought it from the person who'd built it originally in 1993, a elderly friend of his who'd had trouble selling the car himself.
It's done 33k miles and is based on an odd combination of bits, a Escort 1600CVH engine but 1.1 Fiesta interior and brakes.
I've bought it to use as my everyday car as soon as I get it reliable, I've got to resist the tempation to rebuild it, at least not until one of the Mk1 Saloons is done.
---
Index to sections on this car.
---
Click on these thumbnails for 896x600 pixel images (~135k).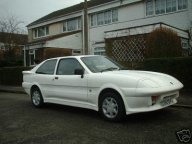 12th Feb 2004 So far i've driven the car to work for 2 days and had some trouble with it stalling, sometimes it will idle ok and sometimes it won't idle, it got worse over the 2 days so i ended up driving home with the idle turned up to about 2k to stop it stalling. At the weekend i'll strip down and clean the carb and fit a fuel filter.
---
7th Apr 2006 This car was used daily until Oct 2004 when some git broke into it on my drive, let the handbrake off and it rolled back down the drive, across the road and into a telegraph pole smashing the boot. While waiting for the new boot i started rebuilding it with a fuel injection Zetec-E engine, this isn't supposed to fit as the engine bay isn't wide enough. Widening the engine bay would greatly weaken it so I've made the engine narrower instead, using a variety of modified CVH and Zetec parts to convert it to V belt instead of flat belt. The water pump couldn't be narrowed so i cut the end off and used it just as an outlet to an electric water pump. The rebuild turned into a total car rebuild with every part being powder coated or painted, all stainless steel fixings etc etc
Hopefully it will be at Stoneleigh this year.
No sorted pictures yet but you can see the work in progress ones here
---
Build manual coming soon (honest).
---
History coming soon.