Quantum H4
This page was last updated on: .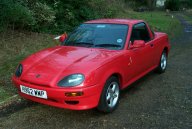 Quantum number 5, bought on 12.12.2004, this is the last model of Quantum designed by the old Quantum company at Stourbridge.
It's a convertible but has a solid roof, the centre panel removes and goes in the boot and the rear screen rotates down behind the rear seat.
I heard about this one for sale from the owner of a 2+2 I've done an engine conversion on, it was for sale a price i couldn't refuse, £900, significantly less than any other H4's I'd seen for sale
It is Mot'd but needs a little work tidying it up and a respray, of course with me that won't be a little bit and I'm already planning which engine to put in it as the carbed 1.6CVH will have to go.
It was registered in July 1998, i believe it was factory built from an H reg reg donor all though it's quite a mixture of bits from different cars, 1.6S engine, SI door trims, seats from low spec model i don't recognise, XR2i dash etc etc.
The original owner had it for only a year and it was sold back to Quantum who sold it to the woman i bought it from.
---
Click on these thumbnails for 896x600 pixel images (~135k).
27th Dec 2004 Not done much with the H4 as yet, i found i couldn't sit in it without my head touching the roof and peering under the windscreen frame so i had to lower the seats.
The seats were from a base model fiesta so i junked those and have fitted Recaros from the Fiesta RS1800 i broke a while back. These were orginally intended for the Grey Mk1 Saloon but plans change :-)
The recaros were still not low enough so i had to remove the brackets from the seat runners and bolt the runners directly to the floor, they are low enough now.
The rear foot well keeps filling up with water and the carpets were looking a bit tired anyway so I've pulled all those out, i don't know what glue was used but it was tougher than the carpet !!!
I've decided to tax the car in January and drive it for a bit to see if i get on with it, if i do it may well end up with the ST170 engine and gearbox in it that were destined for the Grey Mk1 saloon.
7th April 2006 In the end i used the H4 about a year after the white coupe was damaged, nice in the summer with the targa roof, quicker than putting a soft top up/down. In the end i stopped using is because the engine was getting too smoky.
So, after I've finished the coupe rebuild this one is due what will be my biggest rebuild so far, a Focus ST170 engine, 6 speed gearbox and a supercharger as well as a Mk5 Fiesta dash, air con, abs and anything else i can fit in it.
I'm also going to try and separate the 2 halves of the bodyshell from the chassis as it's rusting in inaccessible places